Transcription Services Articles


Following are several transcription services articles we have written or found that have some good advice when you are providing transcription services. We hope you find these articles helpful. 
Transcription Services Articles:
How to Start a Transcription Service From Home
Call or Text - (530) 913-3051
E-mail us at:
info@pioneer-transcription-services.com
By Deborah Devitt

Transcription services is a viable business that individuals with the right skills can build a great career out of. This can be a great job for parents of young children who want to be home with the kids, yet still need to earn an income.

So what are the skills needed to do work at home transcription? The most important skills include excellent grammar, spelling and punctuation skills, fast typing speed, and an ear to type exactly what is said.

The first skill (excellent grammar, spelling and punctuation) includes knowing the differences in words like "their, they're and there," "affect and effect," "to, too and two" as well as many other words that have more than one spelling and won't be picked up by spell check. Even your grammar check function on your word processor will be wrong from time to time, so you really need to know when to use the proper words.

The second skill (fast typing speed) is one that anybody can learn and improve on with a little practice. There are lots of online typing teaching programs these days to assist with this.

The last skill (the ear to type exactly what is said) is achievable to even a beginner transcriptionist. The key is to really take your time and really focus on every single word – each one spoken and each one typed – so that you don't miss any words. Use your foot pedal to rewind as many times as necessary to make sure you are getting every word accurately. Do not worry so much in the beginning about being super fast. That will come with much experience. The main thing in the beginning is complete accuracy!

Once you are sure you have the skills to start a successful transcription service what is the best way to start working? A lot of larger transcription companies hire subcontractors to help them complete the work. This is the fastest and easiest way to get going in doing this type of work at home. Search Google for transcription services and then look at each company's website for any transcription jobs that may be available.

Here are more transcription services articles...

Using Google Search To Provide Excellent Transcription Services
By Deborah Devitt

It's extremely important to properly spell names of people when you are providing transcription services. It is worth the time it takes to stop typing for a minute and go to the internet to perform some research via the search engines.

By far the most comprehensive search engine is Google, although others can certainly be useful as well. Linked In and Facebook are also sometimes helpful with people's names.

Google is pretty intuitive on giving back a properly spelled name of a person or place if you can at least spell it phonetically. Sometimes though you need to give the search engine more information than just a name. This is where it is important to get a little creative with your searches. Let us say you were searching for a street name that sounds like Soretta Street. If you just put in Soretta Street you are probably going to get that spelling for somewhere in the world, but it may not be the correct spelling for your particular transcript. Now if you put in Soretta Street, Kernville, California, Google will come back with the correct spelling of Sirretta Street, Kernville, California. We now know that we have the proper spelling for our current job.

Here is another example. Let us say that you were working on a transcript that required you to find the name of cinematographer Rodrigo Prieto, but you do not know his name and when you are listening to the audio it sure sounds like she is saying Creato instead of Prieto. When you put Rodrigo Creato into the search engine you do not get any good search results. But as you have been typing the interview you realize that the interviewee has done two previous movies with this cinematographer. So now you can put their two names into the search engine together and suddenly you get the correct spelling that you need.

It does take some extra effort on the part of the transcriptionists and proofreading staff, but when you are providing transcription services you want to give your clients the best possible transcript you can. They will always appreciate your extra efforts!

Here are more transcription services articles...
Tips When Testing With a Transcription Service
By Deborah Devitt

Transcription is a great work-at-home job. Transcription entails listening to audio files (usually MP3 or wma files) and typing what is said. These are usually interviews of different types or business persons dictating reports, letters or legal documents. The transcriptionist typically uses a foot pedal that attaches to his or her USB port on the computer. This foot pedal will play the audio when you step on the pedal and will rewind it a bit when you lift your foot off of the pedal. This allows the transcriptionist to control the playing of the audio and capture every word spoken.

There are all kinds of transcription jobs out there. Most of the larger transcription services hire independent contractors to assist them in completing the work. There are many transcription companies that do work of a general or legal nature (rather than medical). You can Google terms such as "transcription services" or "transcription jobs" to find these companies.

The requirements to work for these companies usually involves owning a foot pedal, transcription software of some type (you can download Express Scribe from the internet for free) and Microsoft Word. Qualified transcriptionists will possess excellent grammar and punctuation skills, as well as an ear for typing every word that is spoken. Great care must be taken in this. It is what makes the difference in a mediocre transcriptionist and an excellent transcriptionist.

Pay rates range all over the map. Most companies pay a per audio minute rate or a per audio hour rate. These range anywhere from $40.00 per audio hour on the very low end to $100 per audio hour when you have your own clients. Keep in mind it takes four to six hours to transcribe an hour of audio.

The best way to get into the industry without any experience is to practice, practice, practice using available practice files. Again, use Google to find "transcription practice files." Then look for volunteer opportunities. Once you feel you're ready you can give the volunteer organization as a reference and try testing with one of the paying transcription services.

Once you are ready to test, here are some tips to keep in mind.

Tips When Applying to a Transcription Service

Transcription companies get several applicants per day. It is difficult to get an opportunity to test with these companies. If you do get an opportunity to test, these tips will help you to put your best foot forward when taking the test.

1. Be sure you possess all necessary skills to do the job for which you are applying. You are wasting your time as well as the company's if you do not even have proper grammar and punctuation skills.

2. Read all directions you are given completely and thoroughly. It's a strong indication how well you are going to follow directions when working for a company, and trust me, transcription services are watching for this. When a sample is given, look at it very carefully for style preferences.

3. Complete the test in a timely manner! Do not give the transcription company an opportunity to forget who you are! I always tell individuals to complete the test when it is convenient for them. I do not mean several weeks to a month later! Attempt to complete it within two days.

4. When there is an online form, complete it fully and carefully. Do not use all capitals or no capitals. Use proper punctuation. Most times this form is all the company has to use to decide which applicants they will test and which they will not test. Read the questions carefully. Our transcription service has a form that asks the simple question "Do you enjoy reading?" We then have a follow-up question of "What do you read for fun?" We often receive applications with the second question answered with the answer yes, thinking the question was asking "Do you read for fun?" Or alternatively what they do for fun. We usually just delete those applications.

5. Make sure you possess the proper equipment to complete the job. How serious can an applicant possibly be about doing transcription work if you do not have their own foot pedal? I usually do not test people who do not already own a foot pedal and the proper software.

6. When you have completed the test, proofread it to audio – and then again! Make sure it is perfect and you will have transcription services seeking you out! An excellent transcriptionist is worth his or her weight in gold.

And still more transcription services articles.
What Transcription Services Owners Want from Work-At-Home Transcriptionists
By Deborah Devitt

So you finally got your foot in the door with one of the established transcription companies. They are starting to send you some jobs. You are excited. You are finally working at home, setting your own hours just like you have always dreamed. But sometimes transcription service owners prefer some work-at-home transcriptionists over others and will keep them busy while the less preferred transcriptionists will struggle to have enough work.

Here are some tips to make yourself indispensable to a transcription company so that you are never out of work.

First, always spellcheck and always, always, always proofread your work. The first thing I do when a job comes back to our office is to run spellcheck. You would be amazed at how many times people do not even do this simple task! And it becomes very obvious to the transcription company business owner or quality assurance manager very quickly that the job was not proofread too, as obvious mistakes are usually found with a simple run of spellcheck.

But just running spellcheck is not enough! Spellcheck is not going to catch a lot of things. Sometimes letters get left off of words, so you might have "no" instead of "not" or "not" instead of "note." You might accidentally have typed king instead of kind. A good, thorough proofreading would catch these errors.
Another huge issue to a transcription services owner is turnaround time and making deadlines. There is rarely an excuse good enough to miss a deadline. If you absolutely are going to miss a deadline then let the owner or job manager know as soon as possible that you have an issue. If no deadline is given do not assume that you have however long you want to turn in a job. When I assign a job and a work-at-home transcriptionist takes several days to turn around a job that would take two hours to type, I have to think how important is my company to this individual? She is sending me the message that our work is not a priority in her life, so I would be less likely to send her work in the future.
Finally, be willing to transcribe both the excellent quality audio and the less than perfect and bad audio. In this business, as much as we would prefer it to all be good, there is still bad audio once in a while. As a business owner I need people who are willing to take the good, the bad and the ugly without too much complaining. If the audio is beyond horrible and you know you just aren't going to get a good transcript out of it, let your project manager know as soon as possible! I am sure you will be rewarded with hour upon hour of excellent audio to make up for it.

More important transcription services articles below.

Why It is Important to Proofread Your Work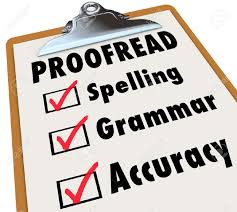 By Deborah Devitt

When you are providing transcription services it is critical that you carefully proofread your work. You want to make sure to give your client the absolute best, most accurate transcript you possibly can so that they know they can depend on your work product. It is so convenient when a client can trust the quality of a transcription service so much that they do not have to spend time reading over and correcting your work.

So many little things can sneak by you while you are typing that you will find when you go back through and proofread. Sometimes you may leave letters off of words, creating completely different words: I instead of is, or instead of for, you instead of your. These are all common mistakes. I know these are little typos, but they make the difference between a good transcript and an excellent transcript.

You might also accidentally type the wrong word such as look instead of book, king instead of kind, thin instead of thing, word instead of work, et cetera. Again, it is the little things that matter and help you to stand out as a quality transcriptionist.

Now there are two ways to go about proofreading your transcription work. One is to listen to the audio and follow along in the transcript, making corrections as you go along. This is most important to do with particularly difficult audios because sometimes you will be able to pick up words you weren't able to the first time through.

If the audio was very clear you probably do not need to proof to the audio, but only need to spot check any questionable words that you may find as you read through the transcript. You can either print your document out and proofread it or proofread from the computer screen. I believe that you are more likely to find errors if you print out a copy and proofread it from the paper copy. Also, I always enjoy getting away from the computer for a little bit. You can take your printed transcript to a nice comfy chair or couch and work on it. It is best to use a different color, such as red, to circle and make proofreaders marks for what needs to be changed in the transcript. Then go back to the computer and carefully go back through the document and make the changes that you found need to be changed.

More Transcription Services Articles:

Why We Do NOT charge $1.00 per audio minute
I was recently doing some email marketing and received a response from a potential client stating that they use a certain transcription company whose rate is only $1.00 per audio minute.  He told me "that's your competition," implying that my regular rate of $1.75 was ridiculously high.  (We pay our typists $1.00 - $1.12 per audio minute and earn the extra .50 to .63 for administrative overhead costs.)
So I went online and did a little research on this company that only charges $1.00 per audio minute.  They have an F rating with the Better Business Bureau (we have an A plus rating) and they have terrible reviews from both transcriptionists and previous customers.  Evidently, their pay rate to transcriptionists is extremely low (below minimum wage) and they do not treat their staff very nicely.
For us, we believe our transcription team is the life blood of our company.  They are important enough to pay as much as we can to retain the best staff we possibly can while providing our customers with superior transcripts.  Paying transcriptionists below minimum wage should be illegal, but because it is production-based rates I guess they can get away with it.  We believe workers in the United States deserve to make a livable wage.  Most of our transcriptionists are stay-at-home moms, students, artists and retired people just trying to make ends meet.  If companies continue to charge and pay such low rates it will just drive the whole industry lower and lower until we are all working for slave wages.
So, yes, our rates are a little bit higher than the "Walmart" of transcription companies.  But if you use our company or one similar to ours, we in turn provide a livable wage to our transcription team and staff.  


Return from Transcription Services Articles to Resources for Transcriptionists
Please contact us if you would like to submit any transcription services articles so that we may possibly publish them on this transcription services articles page to assist other transcriptionists as well as educating clients on the work that goes on behind the scenes.  We will also be publishing more transcription services articles as time allows.
Please note that these transcription services articles are for your informational and educational purposes only.  Please do not use our transcription services articles on your own website, social media, etc. without express written permission from us.